By Brigitte L. Nacos
More than a week ago, Attorney-General Eric Holder said in a speech in recognition of Black History month, "Though this nation has proudly thought of itself as an ethnic melting pot, in things racial we have always been and continue to be, in too many ways, essentially a nation of cowards." Critics noted how strange it was for the nation's first African-American attorney-general and member of the nation's first Black president's cabinet, to lecture fellow-Americans on racism. After all, a majority of the electorate had voted last November for now President Barack Obama. Remarkable as that election result was, it does not mean that racism is dead in America. Ironically, on the day when Holder spoke about racism, the New York Post published a shocking and, at best, insensitive cartoon by Sean Delonas. Showing a cop shooting a monkey to death while his partner says "they'll have to find someone else to write the next stimulus bill," the cartoon referred to two recent news events: the signing of the stimulus bill by President Obama and the killing of a violent chimpanzee in Connecticut by police after the ""pet" had mauled a woman.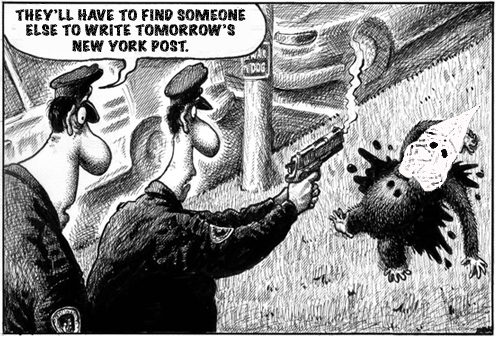 The Rev. Al Sharpton called the cartoon "troubling at best given the historic racist attacks of African-Americans as being synonymous with monkeys." Col Allan, editor-in-chief of the Post, defended the cartoon as "a clear parody of a current news event, to wit the shooting of a violent chimpanzee in Connecticut. It broadly mocks Washington's efforts to revive the economy."
Not a credible explanation at a time when hate groups multiply their membership in reaction to the election of a Black president of the United States and the deepening economic crisis. The Southern Poverty Law Center (SPLC) that monitors hate groups just released its "Year in Hate" compilation for 2008. According to the report, the victory of Barack Obama in the presidential election and the economic crisis were and remain the most important factors in the recent surge of the hate group community in the United States. 
As the editor of the Southern Poverty Law Center's Intelligence Report, Mark Potok, put it, "Barack Obama's election has inflamed racist extremists who see it as another sign that their country is under siege by non-whites. The idea of a black man in the White House, combined with the deepening economic crisis and continuing high levels of Latino immigration, has given white supremacists a real platform on which to recruit."
Don Black, the founder of the neo-Nazi, white supremacy "Stormfront" organization and the first from the right-extremist hate milieu to utilize an Internet web site for building a cyber community of hate, claims according to a CNN report that "on the day after Obama's  election, more than 2,000 people joined his Web site, a remarkable increase from the approximately 80 new members a day he was getting…" 
Even when members of extremist groups do not resort to violence themselves, others may be inspired by this climate of hate to act. Nobody knows that better than Kaylon Johnson who, according to the SPLC "was one of the millions of people around the world who celebrated the historic election of the nation's first African-American president. He even opened a shop to sell Obama memorabilia in Shreveport, La., where he lives. Nearly a month after the election, on the night of Dec. 6, Johnson, 33, pulled into a Shreveport gas station behind the wheel of his GMC Yukon adorned with Obama bumper stickers. Wearing an Obama T-shirt, Johnson purchased a soft drink and was returning to his vehicle when he was jumped by three white men shouting 'Fuck Obama!' and 'Nigger president!' The pummeling left Johnson with a broken nose and a fractured eye socket that required surgery."
Add to this the growing number of vicious and often lethal attacks on Latinos, simply because they are members of a hated group—in this case legal or illegal immigrants from Central or South America. In a recent case on Long Island, New York, the killers of an immigrant from Ecuador went out to hunt down "a Mexican."
To be sure, in spite of the recent spike in membership and the establishment of new hate groups, we are talking about a phenomenon on the fringes, when it comes to hard-core of ethnically, racially, or religiously motivated hate mongers. But consciously on the part of some and unconsciously on the part of others, there is still a significant degree of prejudice, bigotry, and stereotyping present in the society at large that needs to be addressed and dealt with.
In short, Eric Holder was right, timing and all.
P.S. The following is the lead of an Associated Press item earlier today (Feb. 27, 2009):
LOS ALAMITOS, Calif. (AP) -- The mayor of a small Southern California city says he will resign after being criticized for sharing an e-mail picture depicting the White House lawn planted with watermelons under the title ''No Easter egg hunt this year.''