By Brigitte L. Nacos
More than a week ago, Attorney-General Eric Holder said in a speech in recognition of Black History month, "Though this nation has proudly thought of itself as an ethnic melting pot, in things racial we have always been and continue to be, in too many ways, essentially a nation of cowards." Critics noted how strange it was for the nation's first African-American attorney-general and member of the nation's first Black president's cabinet, to lecture fellow-Americans on racism. After all, a majority of the electorate had voted last November for now President Barack Obama. Remarkable as that election result was, it does not mean that racism is dead in America. Ironically, on the day when Holder spoke about racism, the New York Post published a shocking and, at best, insensitive cartoon by Sean Delonas. Showing a cop shooting a monkey to death while his partner says "they'll have to find someone else to write the next stimulus bill," the cartoon referred to two recent news events: the signing of the stimulus bill by President Obama and the killing of a violent chimpanzee in Connecticut by police after the ""pet" had mauled a woman.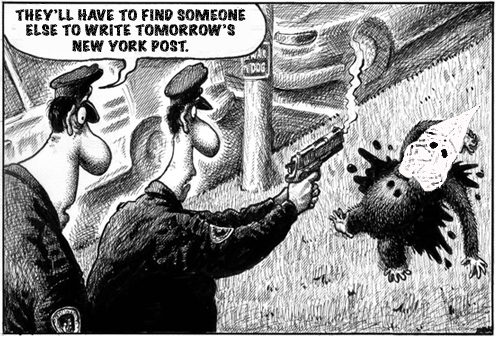 The Rev. Al Sharpton called the cartoon "troubling at best given the historic racist attacks of African-Americans as being synonymous with monkeys." Col Allan, editor-in-chief of the Post, defended the cartoon as "a clear parody of a current news event, to wit the shooting of a violent chimpanzee in Connecticut. It broadly mocks Washington's efforts to revive the economy."
Not a credible explanation at a time when hate groups multiply their membership in reaction to the election of a Black president of the United States and the deepening economic crisis. The Southern Poverty Law Center (SPLC) that monitors hate groups just released its "Year in Hate" compilation for 2008. According to the report, the victory of Barack Obama in the presidential election and the economic crisis were and remain the most important factors in the recent surge of the hate group community in the United States. 
As the editor of the Southern Poverty Law Center's Intelligence Report, Mark Potok, put it, "Barack Obama's election has inflamed racist extremists who see it as another sign that their country is under siege by non-whites. The idea of a black man in the White House, combined with the deepening economic crisis and continuing high levels of Latino immigration, has given white supremacists a real platform on which to recruit."