By Brigitte L. Nacos
Take a good look at the results of a recent survey by the Gallup Poll that asked Clinton and Obama supporters whom they would vote for in the general election, if the Democrat of their choice failed to win their party's nomination.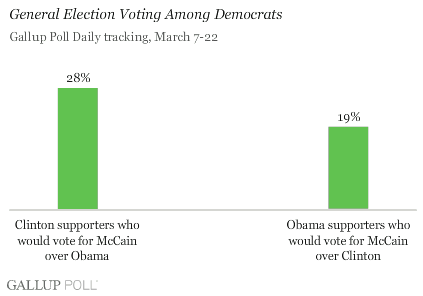 Close to 3 of 10 Clinton supporters and about 2 of 10 Obama supporters said they would vote for McCain. While not all of these eligible voters would actually follow through with their responses and other would simply not cast their vote for a presidential candidate, even a modest cross-over rate could mean that McCain wins and becomes George W. Bush's successor.
That prospect is particularly scary in view of Senator McCain's hawkish stance with respect to the "war on terrorism" and his clueless views on al-Qaeda and Iran. Because the news media have not laid glove on Senator McCain at all, the public is far less informed about his problematic agenda and record than about the real and imagined flaws of Senator Clinton and, to a lesser extent, Senator Obama.
But now, a few media voices have raised questions. The Washington Post's Harold Myerson begins his column today with the following scenario:
It is 3 a.m., and the stillness of the White House night is shattered by the ringing of the red phone. President John McCain, rousing himself from a deep sleep, turns on the light and picks up the receiver. A
U.S. embassy in a Middle Eastern country, he is told, has been blown up, and al-Qaeda is taking credit. McCain takes a deep breath. "Character counts, my friend," he says. "Bomb Iran. Bomb, bomb Iran."
There is a rustling of blankets, and, brushing aside Cindy McCain, a concerned Joe Lieberman rises from the bed. "Not Iran, Mr. President," he says. "They hate al-Qaeda."
"That's right," the president says. "I remember now." He sighs with relief. "Good thing you're here every night, Joe."
The above excerpt from Meyerson's column refers to McCain's recent remarks that linked al-Qaeda and
Iran—a totally false assertion, he actually made before. During his recent trip through the Middle East, Senator Joe Lieberman set McCain straight as a YouTube video demonstrates—but how long does McCain remember, wants to remember?
Just as President Bush and Vice-President Cheney conditioned Americans to support the Iraq War by cleverly linking Saddam Hussein's Iraq to 9/11 and al-Qaeda, Senator McCain seems to cling to the non-existent links between Iran and al-Qaeda. And if Iran wouldn't be the next target, McCain has convincingly promised that the Iraq War will not end soon. He may not want to hear about his "100 years" remark on this, but it is on the record—and scary.
These examples alone should be warning signals for the supporters of Senators Clinton and Obama and for the candidates themselves.
Up to now, I thought that the race for the Democratic nomination should run its course until one of the candidates wins enough delegates to be nominated—even if that will not happen before the convention. But in view of McCain's continued free ride in the media, I now fear that several more months of mass-mediated warfare between Hillary Clinton and Barack Obama will alienate their respective supporters beyond reconciliation and make John McCain's victory in November likely, if not certain.
It is time for the two candidates to figure out how best to prevent that their party's nominee loses the fall election. Months ago, I expressed my belief that a ticket with both candidates would be the best solution. I am not sure whether this is still a possibility today. But it would be worth a try for the two sides to find some common ground. Unless they want to risk that the next president is more hawkish than the present one.